Profile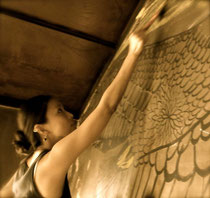 maiko kodama
児玉 真衣子(コダマ マイコ)
東京都出身・沖縄県在住
アーティスト / ジュエリーデザイナー
シンガーソングライター / ヨガプラクティショナー
18歳で単身渡米、ニューヨークの大学に通う。
様々なアーティストと交流し、
2000年日本帰国後から音楽活動を
本格始動。
2001年から5年間、MTV JAPANのニュースプレゼンター/VJとして活躍。
ラジオ・テレビCMのナレーション、
海外アーティストのインタビューなどを行う。
2008年にはinter FMにてラジオDJとして
毎朝3時間生放送番組を受け持つ。
音楽ではJPC band, sosuiとして活動。
 2006年より健康のためにヨガの練習を始める。
インドの哲学やヨガの歴史などにも興味が湧くようになる。
2008年東京での生活にストレスを感じ沖縄へ移住。
2010年インドにてヨガ教師養成コース修了
2011、12年冬期はインドマイソールの
Ashtanga Yoga Research Instituteにて
アシュタンガヨガの練習に取り組んだ。
東京から旅立ち、ロサンゼルス、ニューヨーク、パリ、ベルリン、
バンコク、インド、インドネシアなど
世界中を巡り様々な芸術にふれ
現在は沖縄で絵画やジュエリーを製作しながら
ヨガの練習を続けている。
maiko kodama      
hometown: tokyo
current city:okinawa
artist/yoga practitioner 
singer songwriter / jewelry designer
At the age of 18, moved to L.A., then New York. 
attended college in New York City,
and met many local artists and got inspiration
In 2000, went back to Japan to start creating music. 
From 2001, started working at MTV Japan 
as VJ/News Presenter for five years, and had
many interviews with foreign artists.
 Also did voice-overs for TV commercials 
and narrations for the TV shows.
In 2007, had a three hour live radio shows everyday
at Inter FM, Tokyo. 
As a musician, belonged to a band called JPC band
and have my own band called sosui.
From 2006,started practicing yoga because of
having stress from life and work in Tokyo.
Became interested in the roots of yoga and Indian philosophy. 
In 2008, move to Okinawa to temporarily pause my life in Tokyo.
In 2010, finished The Teachers' Training Course at Sivananda 
Yoga Vedanta Center in India.
In 2011 and '12, practiced ashtanga yoga at Shri K Pattabhi Jois Ashtanga Yoga Institute. 
From Tokyo, L.A, New York, Paris, Berlin, Bangkok, India, to Bali, and beyond,
travelled to many places, coming in touch with their cultures.
Now practice&teach yoga and create art work in Okinawa.